Press Acclaim
---
Feature Story: Dance Houston
We believe strongly in sharing the art of dance in the community.  We both love ballet as well as all kinds of dance, and want to share this art form with those around us.  Dance is a very engaging form of art, one that brings communities together.  We use dance as a tool to bring about positive changes in society.

What has been one of the biggest challenges you have faced?
Our biggest challenges occur each time we take our organization to the next level.  For example, when we outgrew the capacity of Zilkha Hall at the Hobby Center, performing at the Wortham was much more demanding on our artists and staff.  Our next step is raising enough capital to expand several successfully piloted programs that serve communities and children all over the Greater Houston area.

How has your St. John's experience/education influenced your work with Dance Houston?
St. John's instilled in us intellectual curiosity in fields outside of our natural strengths.  This open-mindedness includes an appreciation of all different forms of art, which has manifested into a mutual passion for the art of dance and Dance Houston.  In a broader sense, the St. John's community shares an appreciation for the arts and has supported our work tremendously—through hosting our first performance on campus, advising on curriculum, and serving as board members and ambassadors.

What is one of your favorite memories working with Dance Houston?
Once the house fills up, it's awesome to look across the audience and see people of all different ages and cultures enjoying our concerts together.

What are you looking forward to Dance Houston accomplishing in the future?
Our goal for 2011 is to become a thriving mid-sized arts organization.  We want to expand the reach of our current programs, serving more people and employing more artists around Houston.  As our organization grows, we hope to further engage the St. John's community by bringing programs to campus and by involving members as volunteers and patrons.
Published Winter 2010-2011 in St. John's School Update
---
Houston's hip hop happening: Defying gravity through dance

Houston is a hip-hop hub. So say the mover-shaker team at Dance Houston, the city's leading presenter of local crews. "H-Town Get Down" actually gets down at 7:30 Friday night at Warehouse Live for a one-of-a-kind dance party /performance event featuring the best of local troupes, including Wyld Styl, 8th Edition, Planet Funk, HIStory, Fly, Inertia, Home Grown and the award-winning Alpha Phi Alpha step group from University of Houston.
Mr. Wiggles, of the historic Rock Steady Crew, will be performing and judging bboy battles. Local DJs, graffiti and airbrush artists will be in the house as well.
Mr. Wiggles and Mike Song from Kaba Modern, one of the top three crews on MTV's first season of America's Best Dance Crew, will be teaching master classes on Saturday at SoReal Dance Studio. "We asked the troupes who they most admire, and the answer turned out to be Mr. Wiggles," says Andrea Cody, Dance Houston's founder and executive director.
"H-Town Get Down" is Cody's  brainchild; she has presented numerous hip hop events, along with her ever-popular city-wide dance festivals. After finding out that Wortham and Hobby were not quite the right venues, Cody got the idea of moving the show into Warehouse Live.
"We are bringing it back to the ground level. It's more of an event experience. It's interactive and more like a party. People can mingle, tune in and out, depending on what interests them," Cody says. "I imagine dancing, and some impromptu battles. Audiences will have a chance to show off what they have."
Cody has single handedly raised the awareness of the bounty of hip hop talent in this city, forging a relationship between the concert and street dance community.
"It all started when I invited various hip hop groups to be part of our city-wide festivals. There were so many good ones we realized that the whole lineup could be hip hop," Cody says.  "Then I thought, why not do a totally hip hop event?"
She knows the hip hop world inside and out. Each group represents a different  flavor in the hip hop ecology of Houston.
by Nancy Wozny, published 12.2.10, in Culture Map.
---
H-Town Get Down
The Human Helicopter, a.k.a. b-boy Joel Martinez, will be spinning at the H-Town Get Down dance concert. "The guy can go around [on his head] like 30 or 40 times," laughs Dance Houston founder Andrea Cody. Martinez is just one of dozens of dancers who will take the stage during the annual hip-hop show. Dance Houston launched the Get Down show five years ago when hip-hop groups threatened to overrun the group's City-Wide Festival, meant to be a sampler of various styles. "We decided to do a hip-hop-only show, and it's grown to be our biggest event. The hip-hop community is really hungry, and they put on a great show. It seems like every six months there's a new, hot style. It's always reinventing itself. And, of course, the b-boys are always pushing the limits of what we can do with our bodies," says Cody.

This year's all-ages show will have some significant differences from those in years past. First, the performance is being taken out of the more formal Wortham Center and relocated to the more casual Warehouse Live. Second, graffiti and airbrush artists such as Skeez and A.B.S. will be on hand to tag shirts or caps that fans bring in. One thing that won't change is the high quality of dancing onstage. Homegrown, a new crew from the So Real Studios, Inertia, Planet Funk, Wyld Styl and steppers Eta Mu Chapter of Alpha Phi Alpha Fraternity will share the spotlight with international star Mr. Wiggles and DJ Comp One. There will also be one-on-one b-boy battles, with participants including Naishon Jones from America's Got Talent. 7:30 p.m. 813 St. Emanuel. For information, call 713-526-1049 or visit www.dancehouston.org. $15 to $50.
by Olivia Flores Alvarez, published December 1, 2010, in Houston Press. Photo by Whirling Hand Photographics.
---
H-Town Get Down showcases top hip hop dancers
Some of hip hop's biggest dancers will be showcased Friday, Dec. 3, at H-Town Get Down at Warehouse Live. Presented by Dance Houston, the event's headliner is former New York City subway dancer Marcus Walden, aka Mr. Wiggles.
In addition to national acts, the show will be anchored by some of Houston's most popular homegrown crews, including Wyld Styl, 8th Edition, Planet Funk, HIStory, Fly, Inertia and the University of Houston step group Alpha Phi Alpha. The evening also will include a Bboy dance battle judged by Walden and Kaba Modern's Mike Song.
The doors open at 7:30 p.m. and tickets are $20 ($15 in advance).
By Syd Kearney, published December 1, 2010 in 29-95.com.
---
Best of the City 2010: Performing Arts Fab 5

#1. Beat it!  More than 10 local dance companines, 100 dancers, orifginal choreography and all-new material--in one night?  Welcome to Dance Houston's annual hip hop festival (Feb,. 27), the city's largest gathering of poppers, break dancers, and urban-music inspired troupes.  "These are high-caliber, world-class dancers," boasts Dance Houston founder Andrea Cody.
Published in Houston Modern Luxury, Best of the City 2010, February 2010.
---
Dance Houston tackles a huge Cinco de Mayo dance concert

If anyone else besides Dance Houston tried to present a show as huge as Vida del Baile, we'd say they'd lost their mind. But for a Dance Houston show, we expect nothing less than huge and exciting. Vida del Baile is a mega concert with more than 100 dancers performing a vivacious mix of Latin styles including contemporary, tango, salsa, samba, reggaetón and traditional folk works. Vida celebrates Cinco de Mayo and gives the Latino artists and organizations Dance Houston thinks you ought to know about a little stage time. Sabor Mexico Theatrical Dance Company and Alegria Dance and Performing Arts Company, along with Strictly Street Salsa and Luna Tango Productions, are all on schedule. And the program promises more than just a few surprises. Seen a reggaetón ballet lately, anyone? Well after tonight, you can say you have. 7 p.m. Wortham Center, 501 Texas. For information, call 713-526-1049 or visit www.dancehouston.org. $15 to $31.50.
by Olivia Flores Alvarez, published April 30, 2009 in Houston Press. Photo by Whirling Hand Photographics.
---
5 de Mayo Festival de la Danza Latina en el Teatro Wortham

Dance Houston tiene el privilegio de presentar un ardiente espectáculo con los últimos exóticos estilos y movimientos de el baile latino. Este Cinco de Mayo, más de 100 bailarines tomarán el escenario del Teatro Wortham. Renombradas compañías de baile incluyen: Compañía Folklórica Alegría Mexicana, MECA, Luna Tango Productions, Sandra Organ Dance Company, y Brazilian Arts Foundation. Para más información, visita la página de internet dancehouston.org para obtener la lista completa de bailarines de samba, baile contemporáneo, reggetón, tango, y muchos más! En el Teatro Wortham localizado en el centro de nuestra ciudad.
Published in La Informacion, 30 de Abril, 2009.
---
The Front Row

St. John Flynn speaks with Dance Houston's Director Andrea Cody, as well as Artistic Director of Houston Dance Theatre, Angela Jackson, and Managing Director of the Fly Crew Youth Hip Hop Company George Casco, about this year's upcoming Dance Houston festival. Listen here
---
Planet Funk brings its act to dance festival
Planet Funk Productions will bring a touch of humor to Dance Houston's second annual Urban Dance Festival, Winter Formal. The Memorial-area dance company will present a twist on Dr. Seuss' classic, The Grinch Who Stole Christmas. "Planet Funk is never just dancing; we like to entertain people," said Pearland resident Liz "Tank" Hewett, a director with Planet Funk, 5731 Logan Lane.
by Flori Meeks, published January 24, 2008 in Houston Chronicle. (Login to read the rest of the story.)
---
Local dance troupes krump it up with a program of hip-hop performances
In the dance smorgasbord
Winter Formal
, the local presentation group Dance Houston celebrates urban dance (also known as hip-hop), a genre that's old enough to have a proud legacy but new enough to be wildly innovative. More than 150 local artists, many of them quite young, will display the genre's range through break dancing, slow R&B moves, krumping, stepping and, surely, a number of styles that haven't even found a name. In a mash-up of the old and the new, FLY KiDS will set their urban moves to classical music, and Revolve Dance Company, known for its more classical training, will set its contemporary dance to hip-hop. Marvelous Motion, Planet Funk and Ghost Crew round out the program, which may leave even the audience winded as it tests the frontiers of dance.
Sat., Jan. 26, 8 p.m., 2008.
---
Big Sky Country Gets a Big Festival
What makes a festival sing—startling variety, a smooth running show, and exposure to new groups. Dance Houston aced all three this weekend with their fifth annual city-wide festival. Founding Director Andrea Cody keeps her eagle eyes open all year to find the right mix. The blend of hip-hop, modern, world, and ballroom dance made for a rich soup of dance genres.
By Nancy Wozny. Read the rest of the review here.
---
Houston Dance Celebration Takes Stage at Wortham Theater
Dance Houston's city-wide celebration has gotten so large it's moving into a larger venue this year. FOX 26's Lanny Griffith is on "Pointe" with some of the stars of the show.
Watch a clip from the show here on Fox 26.
---
Steps in the Right Direction

Houston troupes are making their mark in the dance world with appearances on television and performances around the globe
Houston's rap scene exploded a few years ago. Now the city's hip-hop dance troupes are making a name for themselves.
The high-octane Planet Funk has performed on Good Morning America. The meticulously unified Marvelous Motion has made appearances for Red Bull and Pepsi. And HaviKoro has danced in Belarus, Vietnam, India and Turkey.
These hip-hop groups, along with Fly Kids, will perform for the home crowd tonight-Saturday as part of Dance Houston 2007. Jazz, tap, contemporary and ballroom dance will also be featured.
"I can't imagine a festival showcasing Houston dance without hip-hop," says Andrea Cody, the event's founding director. "We need that urban constituency to truly represent the entire city."
by Nancy Wozny, published August 10, 2007 in Houston Chronicle. (Login to read the rest of the story.)
---
Local Show Grows Up


It's hard to believe that just five years ago, this dance concert was a small-time variety show held at St. John's School, with the modest mission to increase dance appreciation in Houston. It seems to have succeeded: Dance Houston 2007 has had to find vastly larger performance spaces, dance companies now compete for entry and it's sprouted accessory events like dance camps, collaborative choreographers' projects and winter formals. This year, 13 groups will perform selections from their repertoires, making for an eclectic blend of modern, classical, hip-hop and international dance. Local stalwarts like Psophonia, Revolve and Barbara King Dance Company will join the up-and-comers in FLY Kids, the African-Diaspora-inspired Second Generation Dance Company and the spiritually charged performers of Urban Souls. It might be time to update that mission statement: "Celebration" seems more appropriate than "appreciation."
by Julie Ramey, published August 8, 2007 in the Houston Press.
---
A Festival for All: Andrea Cody on Dance Houston
Written by Nancy Wozny, published in Arts Houston and Dancehunter.
---
Catherine Lu speaks with Dance Houston's Director Andrea Cody, as well as choreographers Walter Hull (Urban Souls Dance Company) and Sophia Torres (Psophonia Dance Company), about this year's upcoming Dance Houston festival. Listen here.
---
FM Houston
Founding Director Andrea Cody sits down with Laurent Fouilloud-Buyat to talk about the big festival. Aired on July 15, 2007 on The Mix, The Buzz, and Sunny. More here.
---
"Young and Intense" Summer Dance Camp Say, da hip, da hop, da hippity hop
Take your cues from two of Houston's hottest hip-hop choreographers at the "Young and Intense Summer Dance Camp, a two-week intensive workshop led by Phillip Chbeeb (he's worked with Fat Joe and Paul Wall) and Jason Anderson, among others. The workshops (modern, jazz, hip-hop, swing, flamenco and ballroom) are divided into beginner and advanced tracks; boys and girls ages 12 to 16 can participate. "The beginning track is really good to help become [a] comfortable and confident dancer in the real world for social events ranging from school dances to weddings," says director Andrea Cody of the traditional lessons. We think the kids will be more hyped about the hip-hop and funk classes, but hey, that's just us.
by Ishanee Parikh, published July 6, 2007 in the Houston Press.
---
Melissa Cruz goes where the music takes herduende — the spirit that drives the deeply emotive art of flamenco dancing — San Francisco's Melissa Cruz is bringing her program "Flamenco en Vivo" to Houston, but not even she knows what exactly will be in the show.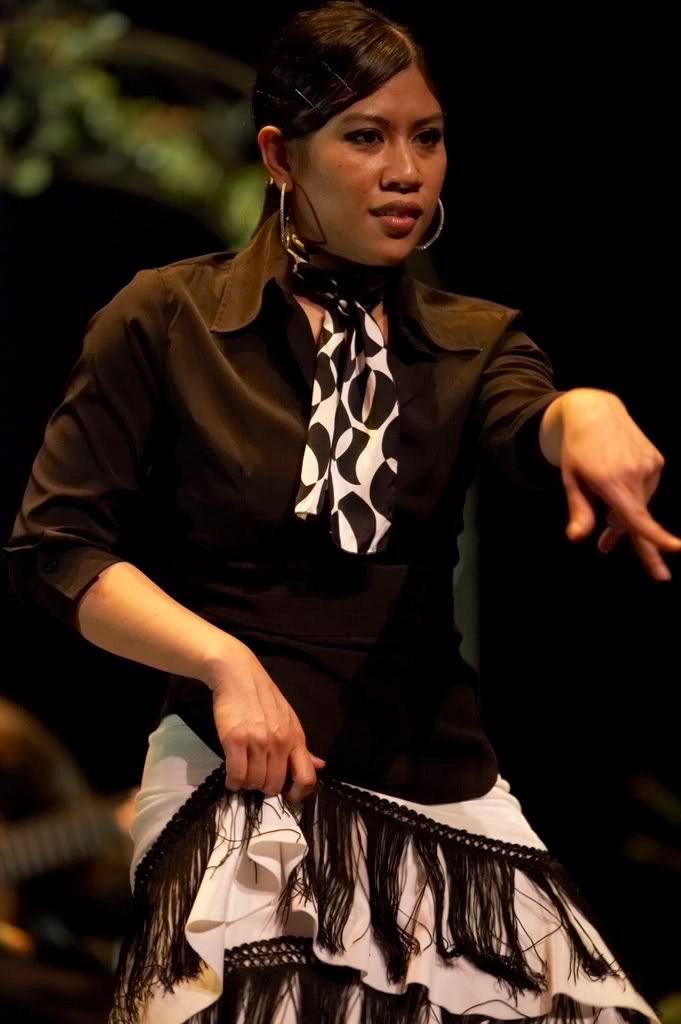 "I don't know what verse the singer will sing," says Cruz, a former law student who turned her love of dance into a 16-year career. "Flamenco dancing is highly improvisational. What ties it all together is that we all have a knowledge of an overall structure to the music and to the dance."
In flamenco, the guitarist and dancer work around the singer. The music and dance correspond to the letras — self-contained poems which tell stories. The show has no running theme, instead bringing together a variety of pieces. While some dances will feature aggressive, upbeat rhythms, others will have slower, classical tones. Some pieces explore topics you might not expect from a flamenco show — Cruz plans to perform a piece about the hardships of miners.
Date/Time: Fri., March 30, 7:30pm, Sat., March 31, 7:30pm
by Ishanee Parikh, published March 28, 2007 in the Houston Press.
---
Dance Dance Dance
At this weekend's Dance Houston festival, a wide variety of local troupes, from block-rocking, socket-popping B-boys to lotus blossom0gentle purveyors of Chinese ballet, share the same stage. Today, you'll witness the Urban Souls Dance Company's streetwise break dancing with a spiritual twist, the Houston Metropolitan Dance Company's melding of traditional and modern ballet and Shawn Welling's Planet Funk's athlete-level bumping and grinding- not to mention 12 others. Which is the best? Dance Houston is allowing the audience to decide. Attendees can drop their ticket stubs into individual boxes and cast a ballot for the Audience Pick Award. The floor starts shaking at 7:30pm. Hobby Center for the Performing Arts, 800 Bagby. Dance Houston continues Saturday and Sunday. For information, call 73.526.1049 or visit www.dancehouston.org. $15 to $40.
by Nick Keppler, published August 23, 2006 in the Houston Press.
---
The Front Row>
Interview on "The Front Row" with Alison Young featuring company directors who are presenting work in Dance Houston 2006. Listen to these guys describe their work: Shawn Welling from Planet Funk, Barbara King of Barbara King's Dance Company, and Randall Flinn from Ad Deum Dance Company.
Wednesday, August 23, 2006, 3:00 - 4:00pm
Click Here to listen to the show
---
A Festival Grows in Houston: Andrea Cody on Dance Houston- By Nancy Wozny
How do groups get on the bill? Can anyone be on the bill?
AC: the groups apply by sending in basic info on their company, ideas for a piece in the show, and a video of their work. The applications are reviewed by Dance Houston's artistic advisory board which selects the best representatives from the various genres of dance.

What's exciting for you to have so much dance at one event? 

AC: Dance festivals are a great way of celebrating dance as a highly expressive, versatile, and progressive
form of art. Every dance company is proud of their signature style, and a showcase format emphasizes their uniqueness and pushes them to represent it to the best of their ability. The range of diverse cultures that come together to produce and watch this event is what I derive the deepest sense of accomplishment from.
Is it wild backstage?AC: In the wings, you could hear a pin drop. In the dressing room, it's the craziest party I've ever seen - a 72-hour dance marathon starring the best dancers in the city.
Click here to read the rest of the interview.
---
Houston dance festival features Memorial talent
Thanks to Andrea Cody, who grew up in Frostwood, Houstonians can celebrate all the diverse dance talent that the Bayou City has to offer, and they can do so with one ticket to one show on one night.

In its fourth year, Dance Houston will feature 17 troupes that will each perform a number representing such genres as ballroom, contemporary, hip-hop and jazz.
by Andrea Sutton, published August 24, 2006 in the Memorial Examiner.
---
From "Houstoned" (the Houston Press Blog)

Probably the only reason there aren't any Houston finalists in So You Think You Can Dance is because the show's producers didn't make it to Houston for auditions, Dance Houston director Andrea Cody says. But they should.
---
Bayou City Ballet
From the first scene of "Dance Houston Does Houston," when a visitor disembarks (from Continental, of course) and steps onto our city's sweltering streets misguidedly dressed in his cowboy best, the inside jokes fly. "We're trying to give it a look that will feel familiar," says Dance Houston founder and director Andrea Cody — hence the falling rain, traffic snarls and mosquitoes, mosquitoes everywhere. "Some of us like [Houston] and some of us don't," she says of the show's nine choreographers, who worked together to create a singularly Houstonian tale, told through dance as varied as the city itself. The show features modern and traditional ballet, waltz, polka, hip-hop — even dancers rappelling down walls — to accompaniment ranging from Tejano to spoken word to "Sweet Home Alabama." "The show is the very opposite of monochrome," Cody says. "It's Technicolor."
by Julia Ramey, published March 15, 2006 in the Houston Press.
---
Take That, L.A.
Dance Houston 2005 spotlights our city's movers and shakers
Andrea Cody thinks Houston's dance scene is as hip and risque as L.A.'s, as intelligently sophisticated as New York City's and as diverse as Chicago's. Which is why the award=winning dancer and choreographer founded Dance Houston, an annual performance spotlighting Houston dance companies. Fifteen groups take the stage for Dance Houston 2005, including crowd-pleasers Uptown Street Dance Company, whose "X Dancing" features urban, jazz, ballet, and hip hop moves in a Survivor-style, reality-TV-themed show. Also watch for the Easy Credit Dance Theater, who'll perform with Two Star Symphony in a carnivalesque marionette show, replete with baton twirlers, a rock band and disgruntled puppet performers who really let loose when their stings are cut.
by Steven Devadanam, published June 23, 2005 in the Houston Press
---
Diversity in Dance
Last year's Dance Houston was a wild success, and lucky for you dance fans out there, they're doing it again! This production is the perfect example of the fierce energy, diversity, and spirit that Houston's artists are so well known for.
The Dance Houston 2005 line-up features last year's award-winning dance troupes plus amazing new talent to the Dance Houston stage. With seventeen dance companies and over 100 dancers in the cast, the broad range of dance styles will dazzle you like no other dance show in Houston.
Each group is allowed a maximum of only seven minutes on stage, which is a great benefit to the audience. (If something isn't quite your taste, you only have to sit through it for seven minutes.) This year's concert includes the first ever "Audience Pick" award. Each audience member will be given one vote, and the company with the most votes will receive $500 plus major bragging rights.
Founding Director Andrea Cody admits to being a little nervous about what some of the companies are planning. Apparently there is no shortage of wild ideas and unbridled creativity among these local choreographers and dancers. No matter what madness ensues, this will be one of the most memorable programs you will see all summer.
by Eva Sheie, published June 2005 in Envy Magazine